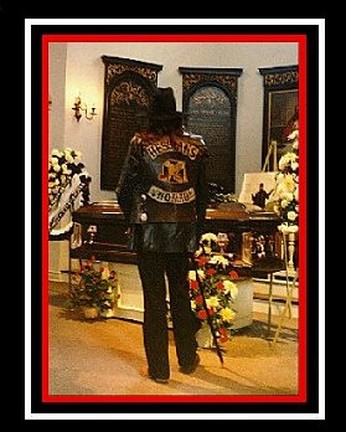 50 years / Sixty-Seven BROTHERS !
5 Prospects Died Tryin'

There are times i think of days now past,
when youth was on my side,
before i'd found there's more to life than motorcycle rides.

Still young and strong and quite naive
the time soon came to learn,
that nothing in this world comes free
and you get just what you earn.

I soon found HESSIANS was the place, I'd prospect for a time.
My job was now to watch their back
and trust them watching mine

A young man learning many things, the basic P's n Q's.
The brain that had been given me, it now was time to use.

I watched close and paid attention to the things that I'd been shown.
like '' riding with your brothers beats riding all alone ".
" you can't believe most of what you hear and not half of what you see ".
& " in the wind 's the only time you're ever truly free ".

The time soon came when i realized that quickly I had grown,
with wisdom I'd been given from every HESSIAN known.

This world for some, is a bitter place and often hearts are cold,
and BROTHERS that are cheaply bought are also cheaply sold.

Love is just another word that too many fear to use,
for others it is a feeling far too many will abuse.
Happiness is something a lot of people never find,
unless of course they have found peace in their own mind.

Respect is not given, it is something to be earned.
if you play with fire there's a chance you may get burned.
Yesterday is a memory and tomorrow's just a dream.
" quite often things are different than the way that they may seem ".

there are times i think of day's now past, when youth was on my side.
Before I'd found theres more to life than motorcycle rides.

HMC Nomad L.J. "all rights reserved"




Dedicated to the brothers that lived & died​ as HESSIANS
( In good standing only ! )


​Cypress Paul MCOC
​Goat VENCO
Nugget Joe LAC
Marv MCOC
Steve VENCO
Farmer LAC
Tiny AZ.
Wop MCOC
Slob MCOC
Wheeler AZ.
Sharp Stick LAC
Casper LAC
Dirty Dennis MCOC U.S. Army ( Viet Nam )
Scotty LAC
Rotten Ralph DESERT
Mongol Chuck LAC
Tinker MCOC
Buggs MCOC
Rabbit MCOC
Red Baron NOMAD
Norm NV.
Skosh NOMAD U.S.M.C. ( viet nam )
Buddah NOMAD U.S.M.C. Two Bronze Stars w/Valor ( Viet Nam )
Jake NV.
Skip MCOC
Grumpy MCOC
Germ MCOC U.S.M.C. " charter member"
Sudsy NOMAD U.S.Navy
Weird Walt NV.
Deadeye LAC
Monkey Man MCOC
Wrench NOMAD U.S.Navy
Doc Holiday MCOC
Smiley NV.
Jack "the ol man" MCOC
Ron RIVCO U.S.A.F. ( Viet Nam )
Magoo NV U.S.Navy
Little Jon MCOC
Big Mike CO.
Luke NOMAD U.S.Navy ( Viet Nam)
Hardtail NOMAD
Turk LAC
Guyron "Captain" NOMAD U.S. Merchant Marines
Wild Bill MCOC U.S.M.C. Force Recon ( Korea )
Jingles MCOC
Jake RIVCO U.S.Navy
RTD LAC U.S.Navy
Goose NOMAD
Knuk NOMAD U.S.M.C.
​Gooie NV
Belch NOMAD U.S. Navy
Mumbles NV
​Gypsy RIVCO
Indian George MCOC
One Eye Jim NV. U.S.Navy
Big Dog MCOC ( Eagle Scout & saved a life )
Hessian Brian NOMAD U.S.M.C, ( Viet Nam )
Byron MCOC
Sammy MCOC
Leaky MCOC U.S. Army ( Viet Nam )
Shame NOMAD LAC
Rusty LAC U.S.Navy ( Viet Nam )
Rusty Chains NOMAD U.S.Navy, ​Seal Team 2, Three medals ( Viet Nam )
​Val OR. U.S. Army ( Viet Nam )
​OC Danny DESERT U.S. Navy
​Ropeman LAC
​Little Joe NOMAD
​Meat DESERT
​​
Died Tryin'
​
Little Mike Prospect MCOC
Elwyn Prospect MCOC
Roger Prospect RIVCO
Glenn Prospect MCOC
Crash Prospect NV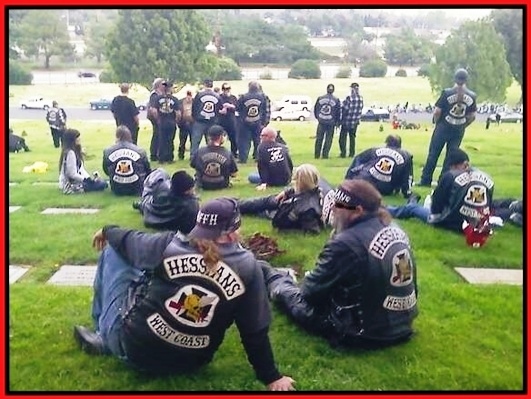 HESSIANS MC will always acknowledge and respect Brotherhood & Vetrans on this day & everyday!
With Full Compliments!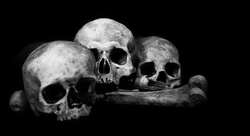 A.T.A.D.T.D.I.I.W.F.H.T.F.L.W.R.

S.W.N.A.S.W.S.D.D.


HFFH